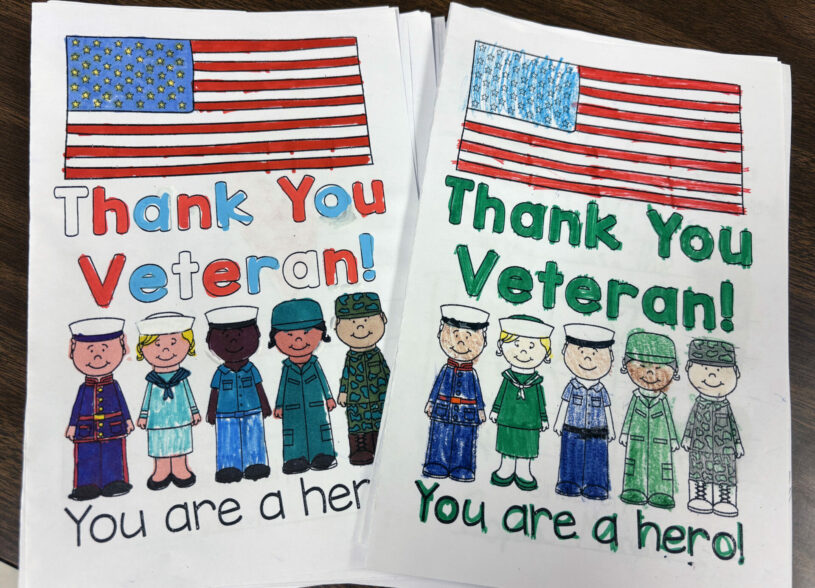 South Row Elementary students write letters to veterans
in Newsletters
School's Kind Act of the Month offers thankful messages to local heroes
CHELMSFORD, Massachusetts (November 14, 2023) – Leading up to Veterans Day, students at South Row Elementary School were busy writing, coloring and putting their own creative touches on letters that would eventually wind up in the hands of some local heroes.
The letter-writing campaign served as the Kind Act of the Month at South Row, assistant principal Jayson Ramalho explained.
Fourth grade teacher Jaclyn Duncan, who was in charge of collecting and sorting all of the letters, said outreach to veterans has been a long-standing tradition at South Row.
"We've been doing veterans letters longer than I can imagine," she said. "We have letter writing as part of our curriculum anyway, so I know a lot of teachers couple it with that."
Completely optional, Mrs. Duncan said the activity is well-received and almost every class participates.
Using an array of patriotic templates, teachers at South Row encouraged their students to color, draw and write meaningful messages to those who have served. And the outcome was absolutely heartwarming.
Most of the letters conveyed warranted thankfulness.
"You helped us live in an amazing, safe, and free country," one student wrote. "We all admired how you were so brave and thoughtful to join the military. Thank you for defending the country."
Many included words of encouragement.
"You should take a minute and say to yourself 'I am the best,'" one student suggested.
Some of the students were quite inquisitive.
"What branch do you serve in?" one student asked. "What is your favorite thing to do in your job? Do you get to drink water often? Do you have to do pushups or exercises?"
Others shared thoughtful sentiments.
"Thank you for all you do in the USA," one student wrote. "I hope you have a nice holiday season. We are lucky to have you."
And several students offered personal reflections and insights.
"My big brother is in the military and they are brave like you," wrote one student. "I want to join the strike force when I grow up!"
"I don't know any veterans, but I do know they are great people like you!" another offered. "Veterans including you protected us from war."
Half of the letters were given to the Chelmsford Veterans Services office and either handed out during the Veterans Day ceremony at Chelmsford Veterans' Memorial Park or distributed at the Chelmsford Senior Center. The rest went to the Chelmsford Booster Club to pass out during the veterans appreciation dinner that was held at The Establishment on Nov. 11.
About Chelmsford Public Schools
The Chelmsford Public School District provides all students with multiple pathways to optimize their own potential for academic excellence, leadership, and social and emotional wellness. The mission of the Chelmsford Public Schools is to educate, engage, prepare, and empower well-rounded and knowledgeable learners to PERSEVERE through challenges, demonstrate RESPECT and INTEGRITY in their words and actions, are DEDICATED to their community, and display EMPATHY as global citizens while discovering and pursuing their full potential.  This PRIDE-driven culture enables all members of the school community to support the growth and development of students.  For more information, please visit www.chelmsfordschools.org.