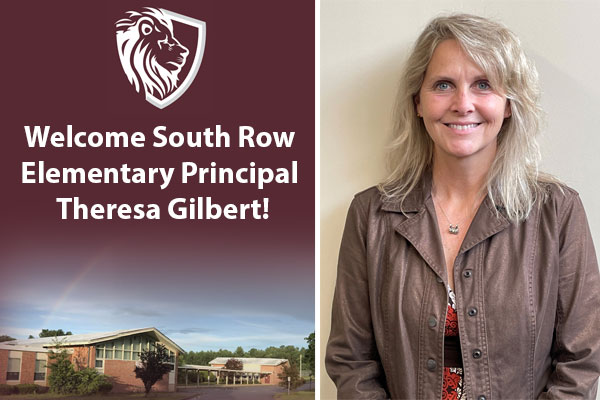 Chelmsford Public Schools Selects Theresa Gilbert as South Row Elementary School Principal
CHELMSFORD, MA (May 18, 2021) – Theresa Gilbert, a resident of Merrimac, Mass., was named the next Principal of Chelmsford Public Schools' South Row Elementary School, Superintendent Jay Lang announced on Thursday. Ms. Gilbert will begin her new position in Chelmsford on July 1, 2021.
Ms. Gilbert comes to Chelmsford having served as the assistant principal and literacy/mathematics educator at Salisbury Elementary School in Salisbury, Mass., since 2007. She is an alumna of the University of New Hampshire, where she earned her undergraduate degree in Communications; UMass Boston, where she earned her MBA, and Framingham State, from which she earned her teacher licensure in elementary education.
Ms. Gilbert is replacing Dr. Molly McMahon who, after nine years as Principal of South Row Elementary, recently accepted the role of Program Director, Leadership Development for the Roche Center at Boston College, from which she earned her doctorate.
Ms. Gilbert was named the Assistant Principal at Salisbury Elementary in July of 2017 where, among many tasks, she led the Instructional Support Team which designed, recommended and monitored interventions to meet student needs. She also evaluated teachers and staff and provided feedback through modeling and co-teaching.  Ms. Gilbert took an active role on several committees including Professional Development, Technology, School Council, Safety, STEM and Positive Behavior Interventions and Supports (PBIS).
In addition, Ms. Gilbert served as Salisbury Elementary School's Title I Director, writing grant proposals, managing budgets and optimizing staff and resources. She also initiated community projects which enhanced relationships with students, their families and the community.
Prior to accepting the assistant principal role, Ms. Gilbert taught sixth grade from 2010-17 where she developed and implemented curriculum, monitored student progress to ensure high academic growth and spearheaded professional development initiatives to meet the needs of all students.
From 2007-10, Ms. Gilbert served as Title I math teacher for grades 2-5. Previously, she was a Library Assistant at The Governor's Academy from 1999-2010 and a reading tutor at Cashman Elementary School in Amesbury from 2006-07.
Ms. Gilbert lives in Merrimac, Mass., with her husband Dave, and their grown children, Jake (24), Maggie (22), and Sarah (20).
About Chelmsford Public Schools
The Chelmsford Public School District provides all students with multiple pathways to optimize their own potential for academic excellence, leadership, and social and emotional wellness. The mission of the Chelmsford Public Schools is to educate, engage, prepare, and empower well-rounded and knowledgeable learners to PERSEVERE through challenges, demonstrate RESPECT and INTEGRITY in their words and actions, are DEDICATED to their community, and display EMPATHY as global citizens while discovering and pursuing their full potential.  This PRIDE-driven culture enables all members of the school community to support the growth and development of students.  For more information, please visit www.chelmsfordschools.org.