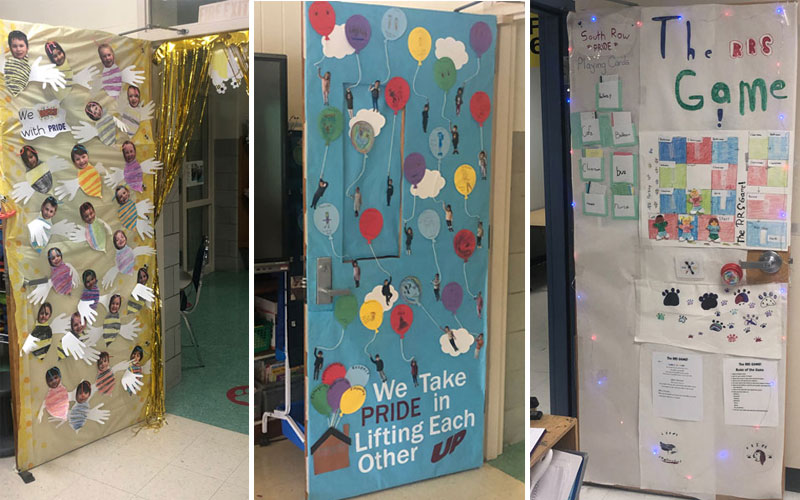 South Row Elementary School Door Challenge Brings Out Creativity, Important Messaging
in Student Work
CHELMSFORD, MA (Feb. 11, 2021) – Respect, responsibility and safety were the themes of the South Row Elementary School Classroom Door Challenge, celebrated on Friday.
The Challenge, which ran through the month of January, was the reward for South Row Elementary students for reaching their mid-year goal of compiling Pride Tickets, rewarded by teachers to students for acts of any of the PRIDE Core Values: Perseverance, Respect, Integrity, Dedication and Empathy.
PRIDE tickets were placed in a plastic container. Once the amount of tickets reached a predetermined level, students chose from a number of reward options which spawned the Door Challenge. Judges included members of the Chelmsford Police Department, Chelmsford Public Schools Social Sciences Coordinator Stephanie Quinn, Assistant Superintendent Dr. Linda Hirsch and Superintendent Dr. Jay Lang.
"This is part of our PBIS (Positive Interventions and Supports) Tier I initiative," said Principal Terri Gilbert. "Teachers award these tickets when students show any of the PRIDE core values or the PBIS qualities."
Each classroom had a different take on promoting respect, responsibility and safety:
A mural of the film Minions, with the message, '(Room) 4D shows pride in a Minion ways.'
One classroom turned its door into a respect-responsibility-safety interactive board game.
Each students in one classroom created their own unique book covers with the simple message, 'Don't judge a book by its cover.'
There were many heartfelt messages that accompanied the creativity, such as 'One kind word can change someone's entire day.' There was also 'A flurry of kindness can create a blizzard of friendships,' its door covered in paper snowflakes, each symbolically unique.
"The creativity has been amazing with a lot of student-driven ideas," Ms. Gilbert said. "We love to see students taking proactive leadership roles. Each student is represented. There is at least one item on every classroom door from each student."
About Chelmsford Public Schools
The Chelmsford Public School District provides all students with multiple pathways to optimize their own potential for academic excellence, leadership, and social and emotional wellness. The mission of the Chelmsford Public Schools is to educate, engage, prepare, and empower well-rounded and knowledgeable learners to PERSEVERE through challenges, demonstrate RESPECT and INTEGRITY in their words and actions, are DEDICATED to their community, and display EMPATHY as global citizens while discovering and pursuing their full potential.  This PRIDE-driven culture enables all members of the school community to support the growth and development of students.  For more information, please visit www.chelmsfordschools.org.